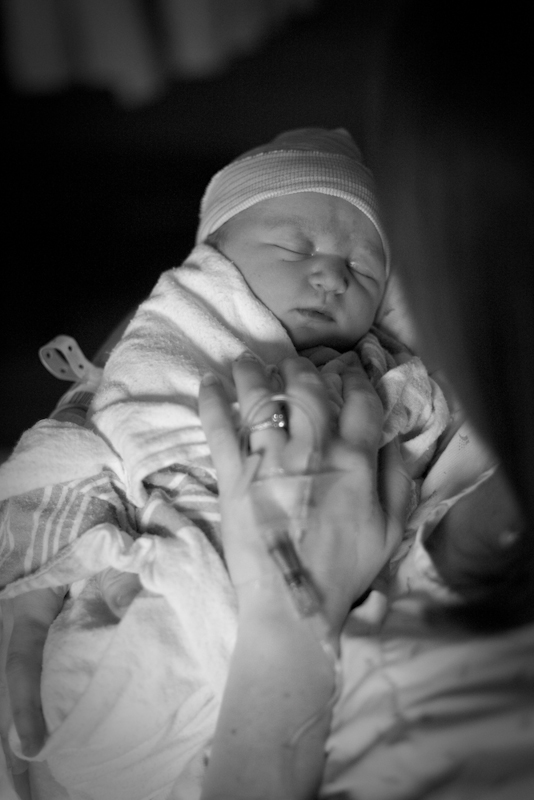 We had a doctor's appointment on Friday to determine the progress of Katie's pregnancy. We arrived in hopeful expectation that that day was it. What happened is that we left disappointed. She had not progressed much, but rather all was steady. So we scheduled to go in the following Friday, December 11th. We went home, I got moving on some work while Katie took a little nap. When she woke, to our surprise, her water broke!
Through out the labor process Katie did an amazing job and I am very proud of her. She exhibited raw power and strength all while maintaining her calmness and radiating grace and beauty. Also, her sister and mom were there to inspire, encourage and give their wisdom through out that time. Thank YOU all our friends and family for all of your support and laughter throughout her pregnancy and delivery. We are quite honored to call you all friends and family. Finally we would not be able to revel in her birth if it was not for Rachel Niesen to cover the final delivery and gathering of family afterwards.
So, after 20 hours of labor, we are pleased to announce and introduce to you, Rosemary Kate Torres! She was born today, December 5, 2009 at 11:01 am, weighing 7 pounds and 14 ounces and she measured 20 inches long! The name was incredibly special and had many people guessing. Rosemary is known as the herb or remembrance. The reason why we chose it was in honor of my late mom, Mary Lou. We wanted a name that was not direct but rather a component of her name and it matched perfectly. So with heart felt tears as I type this I feel that Rosemary, Rosie for short, will be every bit as kind hearted and loving as my mom was in life. Also, Kate is short for Katie, which besides being Rosie's mom's name, it means purity. We are excited with this new chapter in our lives and are pleased to share it with you all!