Chris' birthday landed on a Sunday and we were traveling back to Atlanta that day from documenting a wedding in Florida. So I wanted to have a special celebration, and to be honest Chris made it very clear that he expected a LOT for his 30th! 🙂 He loves surprises and big celebrations. He always dotes over me and I knew this was one time I needed to really celebrate him and show him how much he is loved.
So while Chris had a day with some close guy friends (Jeff and Ryan took him to lunch, Six Flags and then to get a massage!), I was working away with my family and friends to get him his surprise party. The theme was Italian since he is half Italian. I had big white balloons, fabric banners, fresh herbs, stations to make homemade pizza, the famous honey water that every one loved, homemade tiramisu cupcakes and yummy homemade limoncello from our friend Josh. It was perfectly rounded out and I loved using this theme.
I have a huge thank you to send out to my family who worked so hard to help me pull this off. As well as to our amazing friends for showing up early to help and lending me items, Ben Vigil for taking pictures, and for everyone and cheering this man into his 30's!
I love you babe and hope you truly felt celebrated and fully alive.
A few details. We are in love with our front porch. Which includes a swing and curtains to blow in the wind. I added mason jars and candles for the party.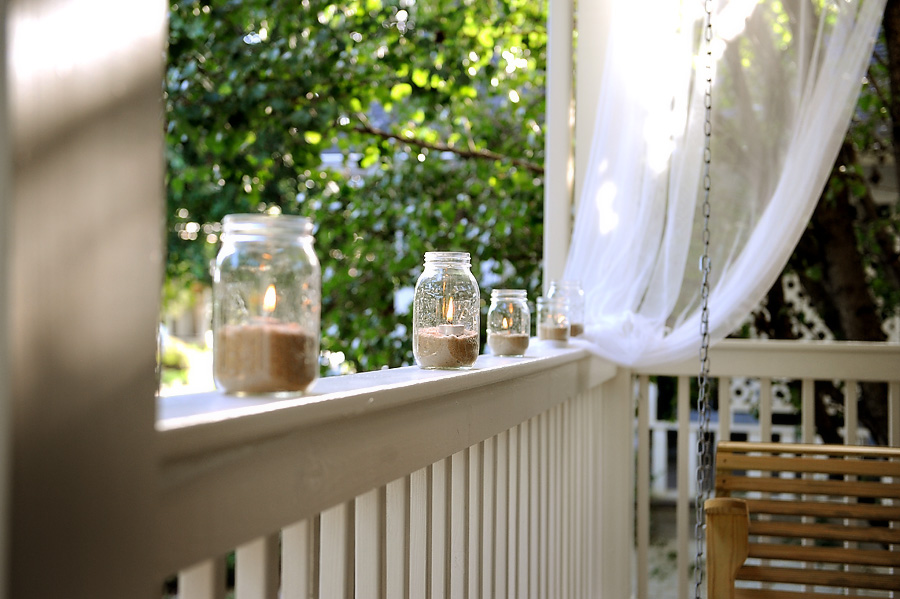 These were the appetizers in the dining room looking from the kitchen and you can see the living room after that. You can note the fresh herbs and the organic old Italian theme.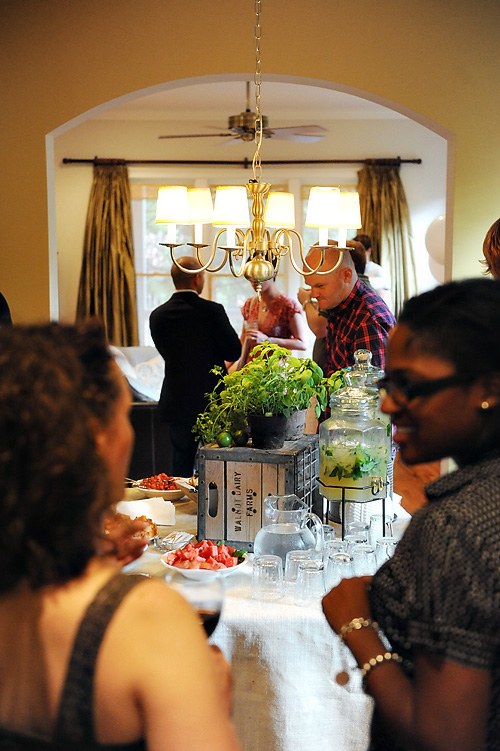 More fun details in the back ground of this picture with the fabric tied together and the pizza bar in the foreground.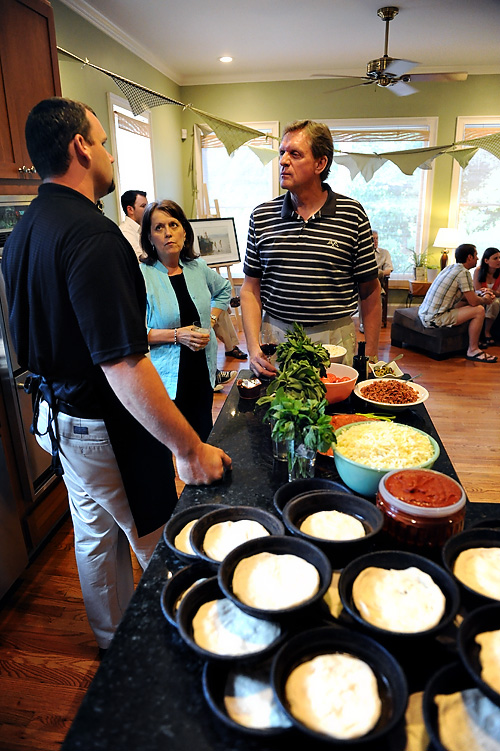 Ben grabbed this picture of me anxiously awaiting Chris!


They were on their way so all 50 of us went on the front porch to wait for his arrival.


A very confused Chris about to be surprised.


He has no problem with good expressions and excitement.




I love this picture, but loved the moment even more. It reminded me of our wedding. Running into each other's arms and embracing with our friends and family watching. It was such a sweet moment to us.


Chris' dad and some of our friends listening to Chris try to explain what he thought was going on.




My family who helped so much. Note the aprons my mom made for them to wear. The guys were good sports. 🙂


The tiramisu cupcakes!


The letterpress invitation to his party that went out to all the guests that Mirabel Press made.